You can reach financial freedom sooner than you ever dreamed.
The Six-Figure Debt to Six-Figure Net Worth Investing Course will show you how to reach a six figure net worth in 5 to 10 years, even if you have a massive amount of student loans.
Over 90% of Student Loan Planner readers we surveyed felt high levels of anxiety about their student loan debt.
In some cases, this worry becomes paralyzing.
How do you ever hope to make work optional one day?
How do you responsibly buy a house in a scalding hot seller's market, start a family, or put your money other places besides the bank?
Most investors fare very poorly managing their own money.
Financial advisors might help the average investor, but at high a cost.
Even if you find an advisor you like, there's a low chance they'll understand the complexities of your student loan debt.
Six-Figure Debt to Six-Figure Net Worth is the first course specifically designed to teach borrowers with $20,000 to $1,000,000 of student loan debt how to invest.
Here's what included when you purchase the course:
Lifetime access to its contents and all future updates (this is the EIGHTH update since the original course launch. That's 2 hours of core content + over 4 hours of optional bonus content!)
Over 25 lessons designed to empower you to manage your own money (and save tens of thousands in fees)
5 Bonus modules about topics like buying a house, investing for your child's education, real estate investing and business ownership
2 never before seen spreadsheets designed exclusively for users of this course
Clear rules about investing for tax bombs, PSLF side account management, and early payoff vs investing discussions that are worth the price of the course alone.
Lessons on investing despite high inflation and above average stock market valuations
Confidence that you'll be financially independent sooner than you ever dreamed possible after finishing it
This Course Will Change Your Life (Guaranteed)
I'm confident this course will teach you enough about investing to totally change your mindset about what's possible for your future.
That's why we offer a 7 day money back guarantee.
If you don't like Six-Figure Debt to Six-Figure Net Worth, email [email protected] within 7 days of your course purchase and we'll give you your money back, no questions asked.

BRAND NEW FOR January 2023
Some students reached out in earlier versions of this course asking about taxes, saving for their children's college, and ways to build wealth outside of the stock market.
So we added these 6 new features:
51 ways to save $1,000 in 2023
A home buyer's guide to getting a great deal on a new house despite large student debt
Bonus module on real estate investing with 3 real estate entrepreneurs who own hundreds of properties
Advanced tax reduction strategies to for investors pursuing loan forgiveness
A how-to guide for saving for your kid's college while getting income tax breaks through 529 plans
Updated analysis on what a potential 2023 recession means for your investments
Don't Take My Word For It...
Here's what students are saying about how this course transformed their financial future.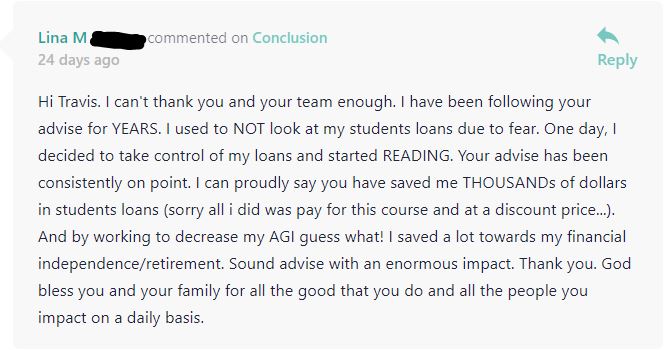 Why Investing in This Course Now Will Save You At Least $10,000 Later
Yes the more income you make, the faster you can get to your financial goals.
But someone that invested $1,000 a month started in 1983 in the US Stock Market Index Fund today would have approximately $6.1 million.
You don't have to be investing at least $10,000 a year to have life changing results.
Even a social worker investing $300 a month could shave a decade off of her retirement with the knowledge we reveal in Six Figure Debt to Six Figure Net Worth.
Higher income individuals will find plenty to cover their unique tax minimization goals in this course too though.
Here's a few of the mistakes you'll avoid if you invest in this course and commit to learning the contents:

Leaving your money in a savings account and losing out on hundreds of thousands of dollars in potential gains
Spending thousands per year on a financial advisor that doesn't know a lot about your student loan situation
Falling for someone's sales pitch that they'll give you "free advice." News flash: there's always a hidden agenda and it usually costs your thousands of dollars in sales commissions.
This course will also save you a ton of time digging through financial blogs and reading books not custom tailored to your high student debt situation.
So the cost? A one time flat fee for lifetime access.
Unlike many courses that launch once and then sit stale, Six Figure Net Worth continues to be updated in all types of market environments.
This is version 8.0, and the cheapest it will be is right now when you sign up.
Even if you plan to take it later, you'll get lifetime access and there's no expiration date on your enrollment.
Can't afford a few hundred bucks?
You need to save more money before signing up.
Not everyone should be buying this course.
It doesn't make sense to learn about investing if you're not able to invest in the price of this course.
One of the first things we teach our students is the importance of an emergency fund of at least $5,000.
I want you to get that done first.
Then come back in one year to learn what you need to know to get to the next level.
I want you to immediately be able to use the tips you'll learn after taking these lessons to start investing.
And to invest, you need a foundation of financial stability before you go for financial independence.
You already have $5,000 in the bank?

If you're already at that level of savings, you need this knowledge now to get on track.
And you won't just feel a lack of anxiety.
Take this course and you'll be excited for your future financially.
If you act now, you'll get our largest ever discount and be on the path to financial freedom.
Don't Wait on Getting on the Path to a Six-Figure Net Worth. These Course Grads Didn't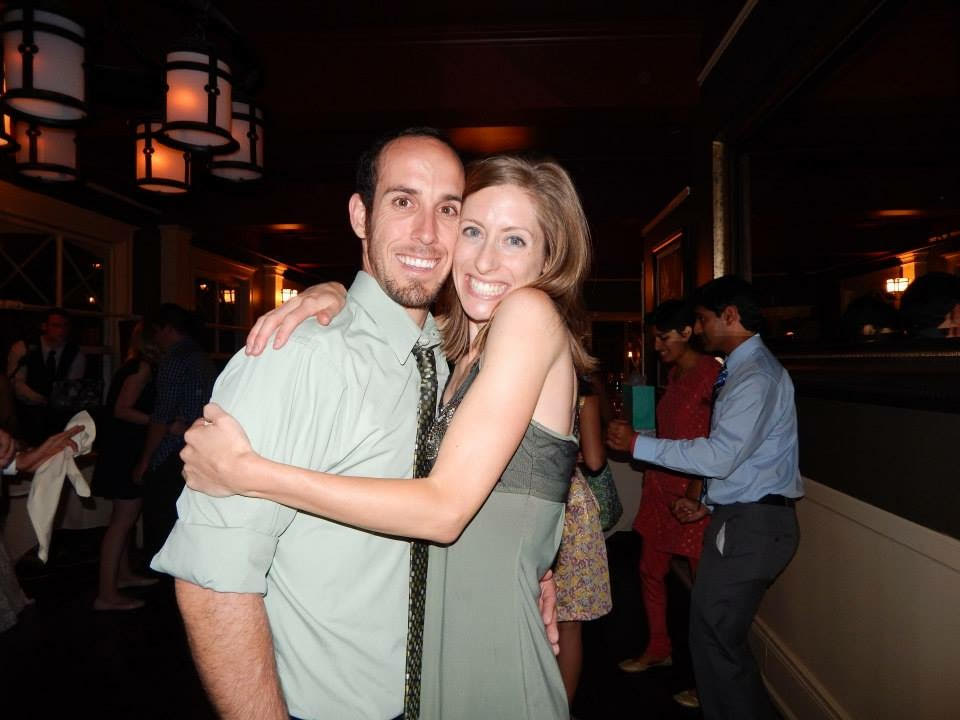 Eric and Julia
'Six-Figure Debt to Six-Figure Net Worth' is EXACTLY what we have been needing!!! I've gone to so many other financial advisors who not only didn't understand student loan debt, but also were taking huge amounts in fees on my investments.
I FINALLY have a feeling of financial peace because I know we both are on track. We have a bit of a ways to go, but at least we are getting our game plan together and we just need to follow the steps. Thank you again for everything. I'm not sure how to re-pay you for my peace of mind- what we paid is a very small fee for that.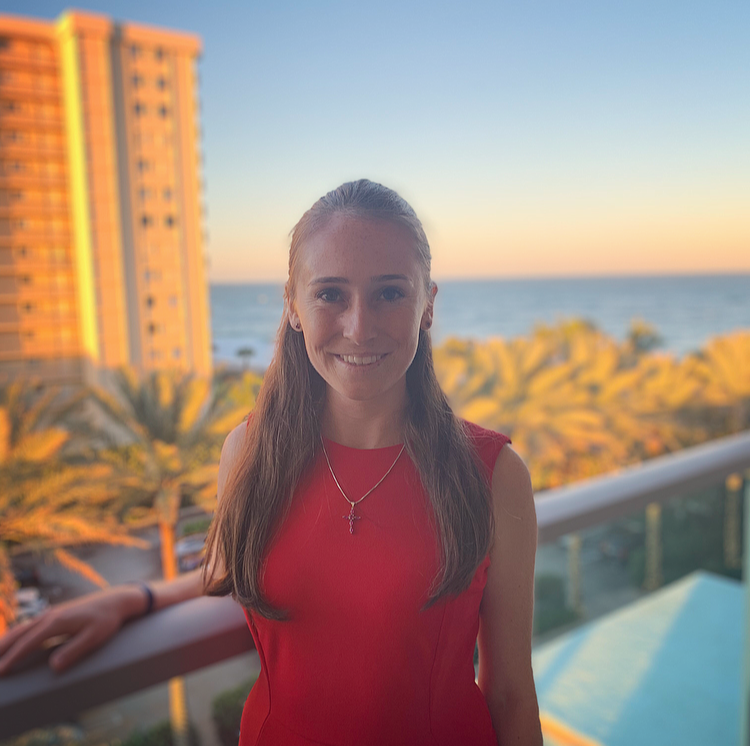 Kelly N
This is the class that every student wishes their $40,000 a year university would teach. It perfectly addressed its audience: a group of young professional with incredible educations, yet no real knowledge of some aspects of life that adults have to come to terms with (finances, retirement, saving for a house).
As an engineer myself, I had no education regarding economics or finances. After this course, I feel confident enough to invest a good portion of my salary, with little anxiety of the risk involved. This isn't "Investment 101 for the next Jordan Belfort," this is a detailed lesson on investment for young professionals who can't afford to lose their future to gambling in the stock market. The best investment I've made since graduating was investing my time in this course.
EXTRA BONUS: Finding Answers to Questions You Can't Ask Anywhere Else

When our student loan planning clients ask me specific investment questions, I can't answer legally because of regulations.
However, with this course we have a way around that.
Ask whatever you want within the course portal and get a personalized answer from me.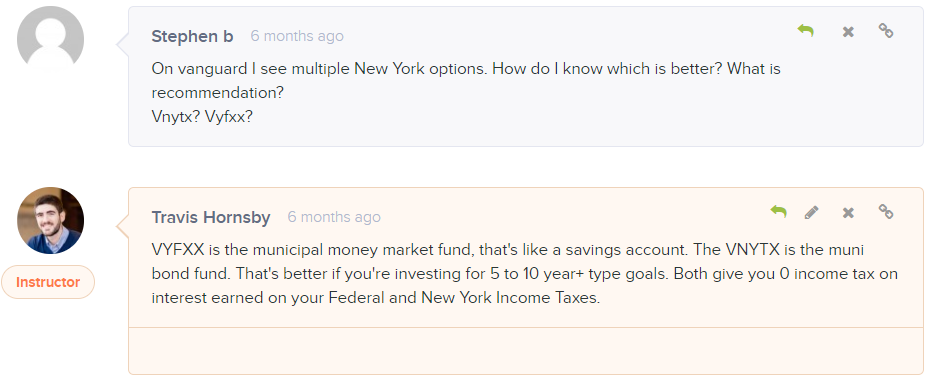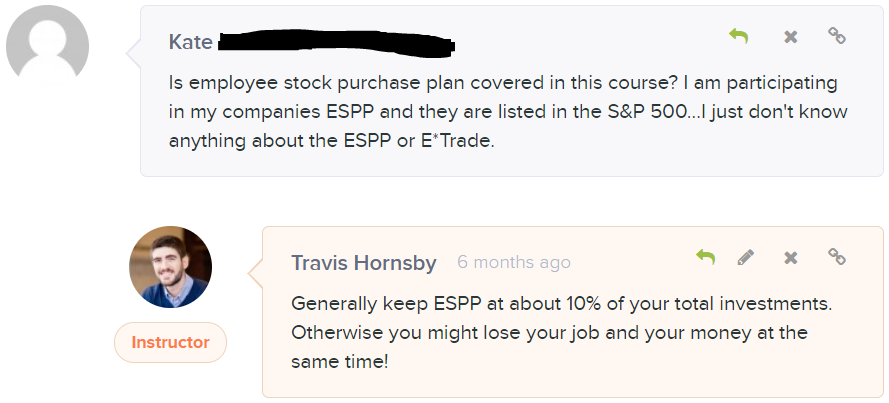 We expect questions, so don't be shy if any of the material seems overwhelming. Just ask in the comments section of each lecture and you'll get the answer you need.
Your Instructor

Travis used to be a bond trader for one of the world's largest investment companies.
In that role, he traded over $10 billion of municipal securities and learned the inner workings of the financial industry.
He founded Student Loan Planner after marrying a physician with $120,000 of student loan debt. Helping one of his wife's friends became helping 10 friends, which eventually became 10,000+ other people with student loan debt.
After personally consulting on more than $750 million of student debt for thousands of borrowers, Travis has created a system that can change your life and help you reach financial independence if you owe $20,000 to $1,000,000 in student loan debt. He holds both the Chartered Financial Analyst and Certified Financial Planner™ designations.
Travis and his wife live in Chapel Hill, North Carolina, where they're attempting to chase their 2 kids around the house.
Course Curriculum
Section 1: Why is Investing So Important?
Available in days
days after you enroll
Section 2: Different Types of Investments
Available in days
days after you enroll
Section 3: How Much Money Could You Make and How Much Could You Lose Investing?
Available in days
days after you enroll
Frequently Asked Questions
When does the course start and finish?
The course starts now and never ends! It is a completely self-paced online course - you decide when you start and when you finish.
How long do I have access to the course?
How does lifetime access sound? After enrolling, you have unlimited access to this course for as long as you like - across any and all devices you own.
What if I am unhappy with the course?
We would never want you to be unhappy! If you are unsatisfied with your purchase, contact us in the first 7 days and we will give you a full refund.